At Bates & Brown the grooming services are quite literally a cut above the competition. The atmosphere in which you will enjoy your cut, shave, grooming service or massage is one that cannot be rivaled in central Ohio. The meticulous search for our barbers and stylists ensure that your experience will be nothing but top notch. You take pride in your appearance and we want to help you look and feel your best. So sit back relax and enjoy the Oster massage that accompanies your haircut, the custom aromatherapy oils that accompany your shave and most of all the company and vibe of Bates & Brown.
HAIRCUTS
The royal haircut experience including relaxing shampoo with scalp massage, hot lather neck shave, hot facial towel and Oster massage
For long hair that needs more TLC.
For design work that requires some extra skill.
Includes relaxing shampoo and hot lather neck shave
Only one guard, length of your choice
Includes all levels of fades, relaxing shampoo with hot lather neck shave ADD Hot Facial Towel and Oster Massage $5
10 & Under. Includes hot towel on scalp.
GROOMING
Cleanse, tone, mask and moisturizer
With your cut this service is an additional $34. As a stand alone service $44.
"Anything You Want" Grooming
$22
Beard OR Mustache Grooming
Facial Beard Line-Up with Wax
$30
This service will last 2-4 weeks. We simply use wax instead of a razor to edge out your beard line on the face/cheek area.
*If you book a Brown or Bates full service for someone under 18, they will receive the full cut and be charged at the full rate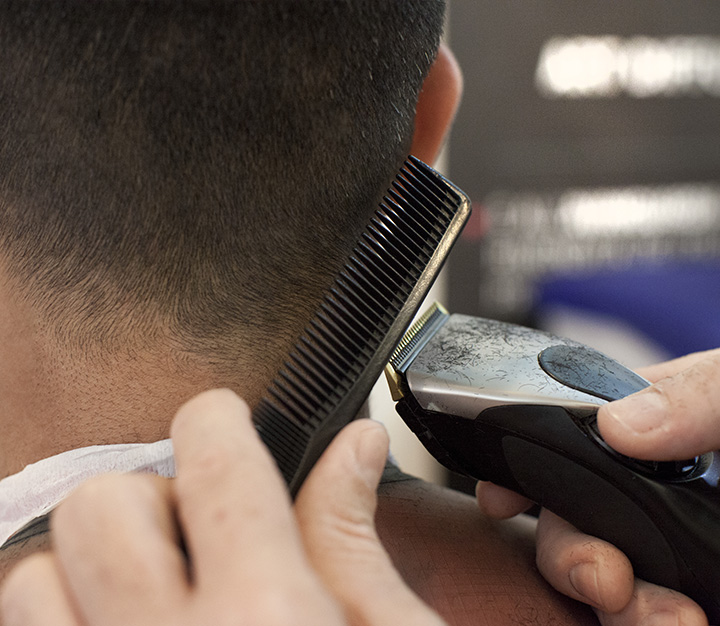 STRAIGHT RAZOR SHAVES
The royal shave experience including aromatherapy oils, hot lather, hot and cool towels, choice of products, mini facial and relaxing Oster massage
Includes hot lather, hot and cool towels, as well as pre-shave and after shave products
MASSAGE – OLENTANGY ONLY
This is a customized massage of your choice performed by our Licensed Massage Therapist. Buy 5 massages, get 1 free! Call today for details on this package.
Chair Massage (15 Minutes)
$28
*Aromatherapy or sugar scrub upgrades available
PARTY MENU
Not just for Groomsmen! Need Some Privacy? These services include 2 hours of private space.
Bates Haircut - The ultimate haircut experience. Consultation and cut including aromatherapy, relaxing shampoo with scalp and temple massage, hot lather neck shave, hot facial towel and Oster neck massage.
Bates Straight Razor Shave - A royal shave experience with choice of Proraso products. Traditional straight razor shave including aromatherapy, hot lather, hot and cool towels, mini facial, and relaxing arm, neck and shoulder Oster massages.
Grooming - Beard trims and eyebrow grooming (included if applicable)
$130 Per Person with a minimum of 4 and a maximum of 6. If you have more than 6 or need more than 2 hours call us for special pricing.